NACI Symposium took place under the theme: Strengthening of the Local Innovation Systems for Achievement of the National Objectives.
The event took place at the Pretoria National Botanical Garden, on the 28th of June 2018. This symposium attracted high-level stakeholders from government, business sector, civil society, government agencies and higher education institutions.
This report was unveiled by the Minister of Science and Technology, Honorable Mmamoloko Kubayi-Ngubane, who also gave a Key Note Address. According to Minister Khubayi-Ngubane, the STI institutional landscape has expanded over the years, seeing a three-fold increase in publications, significant growth in the participation of black people and women in the research and development (R&D) workforce, and a rise in doctoral graduation rates. However, there are still challenges. The national system of innovation (NSI) is still not fully inclusive, and since 1996 South Africa's innovation performance (measured in patents and products) has been relatively flat.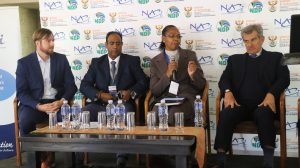 Report highlights
There are few black doctoral graduates in life sciences and engineering.
South Africa ranks 18th in the world for scientific publications in social sciences, arts and humanities.
Government's contribution to expenditure on R&D was low and there was no appropriate coordination mechanism for a coherent response by various government entities.
Government contributes significantly to the South African venture capital industry.
High-technology exports remain low, leaving the country very dependent on imported products.
South Africa ranked high in the opportunity and foundations of well-being category of the Social Progress Index.
These documents are available for downloading:
2017 South African Science, Technology and Innovation Indicators Report